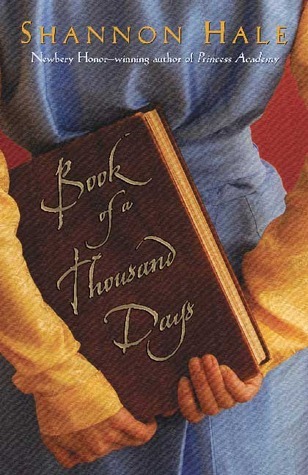 Book of a Thousand Days
Fantasy
Bloomsbury
December 18, 2007
308

When Dashti, a maid, and Lady Saren, her mistress, are shut in a tower for seven years for Saren's refusal to marry a man she despises, the two prepare for a very long and dark imprisonment.
As food runs low and the days go from broiling hot to freezing cold, it is all Dashti can do to keep them fed and comfortable. But the arrival outside the tower of Saren's two suitors—one welcome, and the other decidedly less so—brings both hope and great danger, and Dashti must make the desperate choices of a girl whose life is worth more than she knows. (from Goodreads/the publisher)
One-sentence review: Overall a good book with a predictable romance, a decent protagonist, and an annoying "sidekick."
The good: I thought the book was well written, if a little lacking in substance. The romance was good, Dashti was a pretty good main character, and Tegus was awesome. I ended up rooting for Dashti and Tegus, and I loved My Lord the cat and how he finally helped Saren snap out of her craziness.
The bad: Holy cow was Lady Saren annoying! I know that some characters are just supposed to be unlikable, but this one was a little much–though she did calm down later. I thought the lore could've been a little more detailed, and I thought it was weird that the bad guy turns into a wolf. Really? We get that he's a terrible person, but let's make him a little more believable. The song stuff was a little weird too–even for fantasy.
Bottom line: I would recommend this book for sure, and I did enjoy it once I got into it. It's just not my favorite of Hale's. Her Books of Bayern and Princess Academy are a lot better.