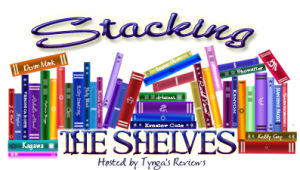 Stacking the shelves is a weekly meme hosted by Tynga's Reviews.
I'm really excited about all of the many wonderful books I've found recently, really, in the last like 2 months. I welcome books of all kinds into my collection, so you'll often see some lovely library book sale books and thrift store books on this ol' blog. Below are my new papered friends. 😉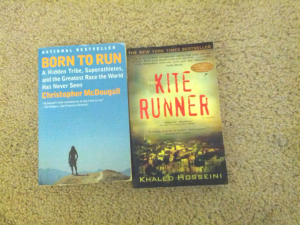 Born to Run by Christopher McDougall and Kite Runner by Khaled Hosseini. I found these great books at a yard sale a few weeks ago for a dollar each. I'm pretty excited for both of them. I started to read Born to Run awhile back, but my library loan expired, and I've heard great things about Kite Runner.
So, we're off to a good start in this roundup.
Well, I actually wouldn't buy anything I wouldn't read so all of these books are good . . . 😉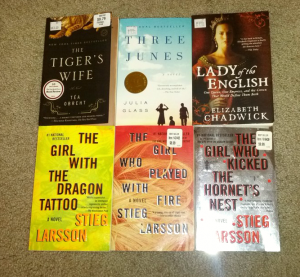 Next up we have The Tiger's Wife by Téa Obreht, Three Junes by Julia Glass, Lady of the English by Elizabeth Chadwick, and the Millennium series by Stieg Larsson. Yep, still excited.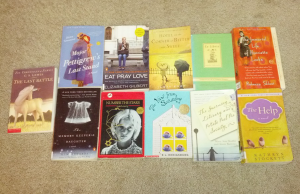 And you guys, last weekend I made out like a bandit! I spent 9 dollars for these 11 books. I love the thrift store and library book sales. (And next week the other library in my area is having their semiannual book sale!! Totally thrilled about that!!! Hence the overuse of exclamation points.) Anyway, I got The Last Battle by C.S. Lewis (to round out my Chronicles of Narnia set), Number the Stars by Lois Lowry, Major Pettigrew's Last Stand by Helen Simonson, Hotel on the Corner of Bitter and Sweet, Ex Libris: Confessions of a Common Reader by Anne Fadiman, The Immortal Life of Henrietta Lacks by Rebecca Skloot, The Help by Kathryn Stockett, The Guernsey Literary and Potato Peel Pie Society by Mary Ann Shaffer and Annie Barrows, The View from Saturday by E.L. Konigsburg, The Memory Keeper's Daughter by Kim Edwards, and Eat, Pray Love by Elizabeth Gilbert. PHEW!
A ton, right? Not bad at all for about $25. I recently found out that my local thrift stores actually have some fairly recent great books at reasonable prices–and the library sells used books for 50 cents to a dollar! I may have gone overboard, but, really, who doesn't love hoarding a little? At least they're books and not cats or something. Low maintenance and you don't have to feed them.
Oh, p.s. Holy awesome Kindle sales! I also just got The Book Thief by Markus Zusak, Crazy in Love by Lani Rich, and The Fault in Our Stars by John Green I really need to be careful . . . I'll think about it. . . . Maybe.